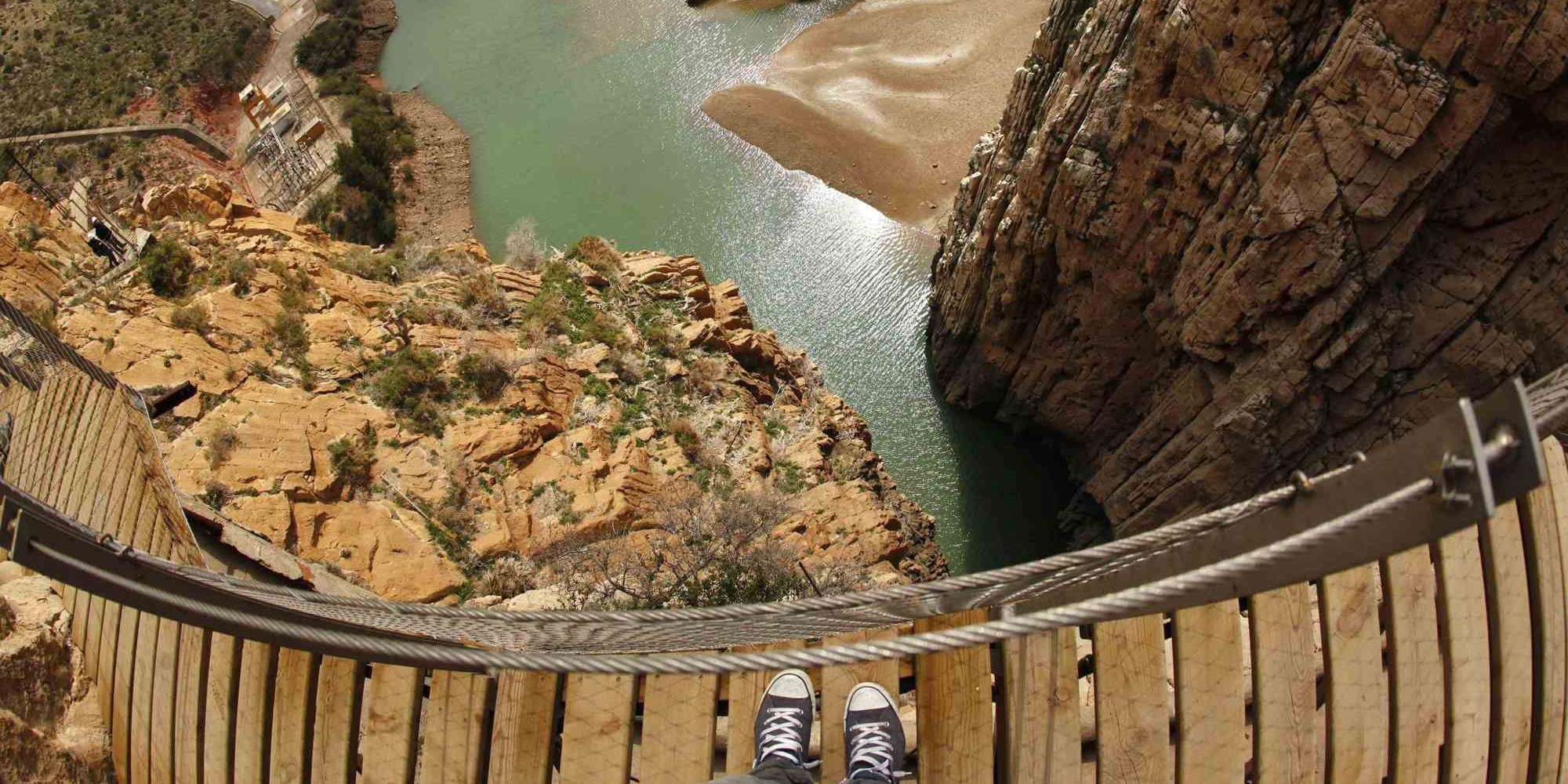 In 1886, some clever Spanish engineers realized that a beautiful gorge in El Chorro would be the perfect place to create electricity by harnessing the natural rushing water. As work progressed on this project, they needed a way for workers and building supplies to travel between one side of the gorge and the other.
About 110 years ago, work was completed on El Caminito Del Rey, a steel and concrete pathway winding its way 350 feet above the fast flowing water, fulfilling its purpose, and sparking an obsession. This would eventually become one of the most dangerous hikes in the world.
In good human fashion, someone figured out that they could jump a fence or security gate and gain access to this pathway. And people followed. For years, daring folks have been fulfilling their inner daredevil and crossing the gorge via this increasingly decrepit and unmaintained path. Yes, people have died. Of course, this doesn't stop others from doing it anyway.
Perhaps like me, you have seen this youtube video of someone exploring the pathway back in 2008:
Naturally, after seeing a video like this, I know what you're thinking. How can get myself on that trail ASAP? You were thinking that, right? Luckily for you, the government really cracked down on blocking access, so you can't go. Until now.
Thanks to cooperation between various levels of government, the incredible path has just finished undergoing a 5-year-long revitalization, to the tune of about $11 Million. And wouldn't you know it – the grand reopening was on April 1st, just two weeks before I arrived in Malaga, the entry point for the King's pathway.
Upon arriving, I anxiously began piecing together the puzzle. I would need transportation – this was easy and affordable. A train would take me directly there. I would need to pay an admission fee – just a few bucks, easily worth it. My sneakers were packed away in anticipation of adventure. The weather was sunny and warm. I was mentally prepared to take on the king's pathway. This was really going to happen!
This is where the story really gets boring. As it turns out, I am not the only one who was excited at the possibility of doing a safely reconstructed version of the famous trail.
Clever as I think I am, the restoration also brought management, security, and…. ugghh… organization… to the reborn trail. At present, they are only allowing a few hundred people on per day, and there's a waiting list. A long one.
My dreams were crushed when I found out that it would be end of summer before the next opportunity to knock this one off the bucket list. Tried as I might, I could not find a way around this policy (scalping, hoping for cancellation, etc), and therefore had to let this one slip through my fingers for now.
Therefore, I present to you my two-step guide on How to Hike Spain's Camino Del Rey Trail:
1. Prepare yourself to hike the trail.
2. Book your admission in advance.
To be serious though, I felt quite silly that it hadn't occurred to me I would not be able to just walk up and go. Clearly, thousands from around the world have been waiting for this reconstruction and a safe way to see this natural wonder. If you're curious to see more,
This guy did a great job documenting the hike before it was rehabilitated, and this one has documented it since. Additionally, Lonely Planet has just named it one of the world's coolest things to do.
What once was known as one of the world's most dangerous hikes is now available to the general population in a nice, bubble wrapped form. Though it may not be as exciting as the original, your chances of survival are much higher. Just remember to book your ticket.
~Guest post by AA.