There is so much to love about Greece.
The history, the islands, the culture, the people and of course… the food!
Honestly, I was a little concerned about the food in Greece because they are known for their love of olives (which I dislike) and their use of feta (probably my least favourite cheese – don't judge me!). But I soon realized, when it comes to eating, Greece offers one of the most diverse dining experiences and some of the best food I've had the pleasure of inhaling.
Therefore, for this Thursday's Three Things I'm talking about my favourite dishes in Greece.
Here are my three must-try items in Greece: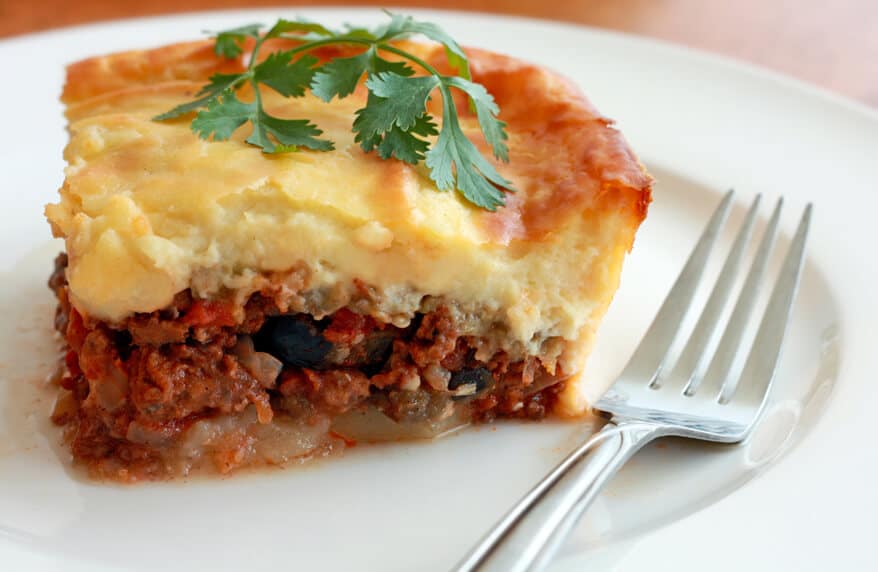 Moussaka
Mmm. Moussaka. Makes my mouth water every time I think about it.
This was my go-to dish when I was in Greece. I had originally fallen in love with it during my first trip to Athens when I had my first Moussaka at God's Restaurant, which is renowned for their version.
Moussaka is an authentic Greek dish that is baked and contains layers of spices, sautéed eggplant, minced meat, onion, garlic, potato and topped with béchamel sauce. It is the opposite of a "calorie-friendly" dish, but worth every bite!
Saganaki
Fried cheese – how can you go wrong?!
Saganaki is typically served as an appetizer and is served with lemon and bread. There are a variety of cheeses that are used for the dish, but I've personally had graviera (one of the more common choices) and halloumi (a regional cheese).
The hard cheese is dredged with flour, then pan-seared at high temperature until the outside is golden brown and the inside is warm and soft. So good!
Dolmadakia
Everything that you can't pronounce is worth a try in Greece.
Dolmadakia are typically vine leaves stuffed with herbs, rice, and ground meat served with Tzatziki for dipping. There are different varieties of dolmadkia so you can often find vegetarian versions, or ones with an avgolemono sauce (egg-lemon sauce).
For more delicious Greek recommendations, check out this article by A Greek Adventure.
Or, if you subscribe to a vegetarian or vegan diet, check out the Low Fat Vegan Chef's Eating Vegan or Vegetarian in Greece or Kid's Love Greece A Guide to Vegetarian or Vegan food.
Have you been to Greece? What was your favourite Greek dish?