Vancouver is awesome.
This city has so much to offer travellers that it's hard to know where to start offering advice on our best  attractions.
Of course it's no surprise that during my time in the local service industry, the question I got asked the most was, "What must we absolutely see / do in Vancouver?" 
Despite all the city has to offer, that question was always easy for me to answer, "You must see Stanley Park".
Stanley Park is consistently recognized as one of the greatest urban parks in the world. A 1,000+ acre playground that is situated between two different worlds – the stunning Pacific ocean and a huge downtown population – also home to rare old-growth trees, a variety of animals, and endless ways for travellers to enjoy their day.
Here are a few suggestions of what to see and do in Stanley Park:
Cruise the Seawall
Whether you want to ride, roll, or run, no trip to Vancouver is truly complete until you make your way around the perimeter of Stanley Park on the Seawall. Your method of transportation is completely up to you, but make sure you wear comfortable footwear because the 9km seawall portion will take you between two or three hours to walk or one hour if you are cycling. Also, beware that the Seawall is split into two clearly marked sections- one for those on foot, and the other for wheels. It's a popular spot on a nice day, so make sure you aren't walking aimlessly in a bike lane because you will be loudly reminded or worst-case scenario, whacked by a bicycle. Nobody wants that.
There are countless places around town to rent bikes, but I always suggest heading up Denman Street and checking out the various options close to Stanley Park. You can also check out 604 Now's article on the Best Spots to Rent Bikes in Vancouver.
Relax at the Beach
It's not officially fall until September 23 and with sunny warm weather making an appearance it's the perfect time to squeeze in some beach days. Pack a lunch and some reading material and head out to one of the beaches in the park. My personal favourite is Third Beach – my oasis in the city. Second Beach is a great options for those travellers with children, because there is great outdoor pool and a playground near by, or check out the Water Park close by. Complete with water sprays and fountains, it's a great place for kids to run around while parents can relax and take in the view of the North Shore.
Check out the Aquarium 
Located within Stanley Park, the Vancouver Aquarium is the place to be on a rainy Vancouver day. Open 365 days a year, the Vancouver Aquarium "is dedicated to effecting the conservation of aquatic life through display and interpretation, education, research and direct action". Great for all ages, the Aquarium has a variety of exhibits and galleries and is routinely featuring new programs. And it's one of the few facilities in the world that is consistently recognized for the sustainable care of its animals – only those who need rescue or rehabilitation are lucky enough to call this place home.
Starting on September 19th, the Aquarium is holding Sea Otter Awareness Week; how adorable is that going to be!?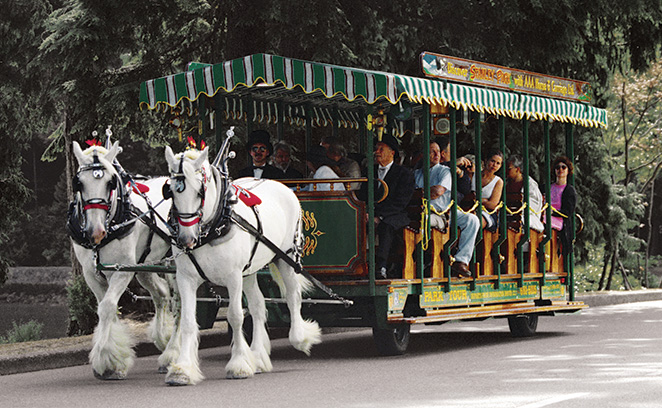 Be a Tourist
Sadly, the Stanley Park Miniature Train Ride has closed for 2015, but put it on your list for next year (it remains one of the most popular tourist attractions in the city). My personal favourite Stanley Park attraction is the Horse Drawn Carriage Ride. Beautiful and well-loved horses guide you around the park while a professional guide narrates the history of this amazing place over a one-hour tour. For those unable to do the Seawall, the Carriage Ride is a great way to see all the sights Stanley Park has to offer. There is also the Stanley Park Pitch and Putt, as well as various hiking trails, meaning there is truly something for everyone within Stanley Park.
Have a Bite to Eat
Beyond the concessions stands located throughout the park (open seasonally) there are also some great restaurants located within the massive boundaries. Treat yourself to a nice dinner at The Fish House, Appy Hour at The Teahouse or a quick coffee at Prospect Point. If you forget your picnic, no worries, you won't starve.
Have you visited Stanley Park in Vancouver? If so, what was your favourite thing to do?