There is so much I love about Vancouver within the city itself that I could go weeks without leaving my downtown bubble and be perfectly happy, but sometimes you just have to get away.
It doesn't have to be far, but it's nice on a weekend to pack up the car, hit the road and check out somewhere new (or one of your old favourites).
Here are my five favourite weekend getaways from Vancouver: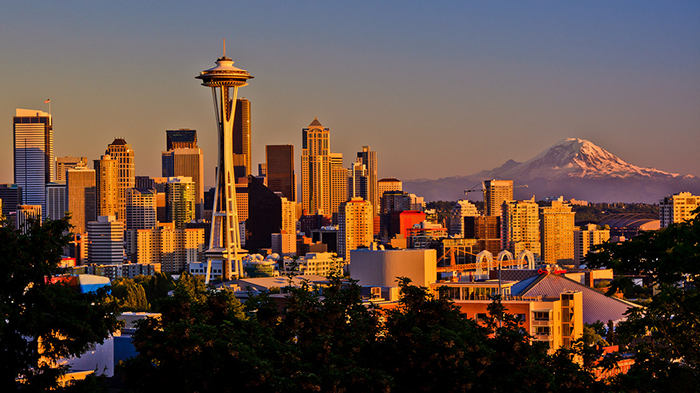 Seattle
As of this writing, our Canadian dollar is pretty weak against the US (hopefully this doesn't last too long). Before this happened, we used to take regular trips to Seattle. Personally, I refer to Seattle as "Vancouver's ugly cousin", as there are distinct similarities and it's a lot of fun, but it's just not as polished and pristine as Vancouver. However, it's well-worth a weekend trip to check it out the Emerald City for yourself.
Three Favourite Things- Pike Place Market, EPM Museum and the Shopping.
Driving Time- Two and a half-ish hours.
Okanagan Valley
The Okanagan is full of options for those looking to get further away from the city. It's a much longer drive than some of the other recommendations, but worth every minute in the car. From golf courses to ski resorts, wineries and stunning lakes, any city in this region you choose to visit will have you planning your return.
Favourite Three Things- Wineries,  Water Sports and Myra Canyon Park 
Driving Time- Depends where you're going. Vancouver to Osoyoos is about four and a half hours and Vancouver to Kelowna is approx. four hours.
The Gulf Islands
When you visit the Gulf Islands you have a variety of options to choose from Mayne, Galiano, Salt Spring and more, Vancouver's Gulf Islands are a great getaway for anyone who is craving a reconnect with mother nature. Also, there are a variety of local artisans on each island, from soap makers to painters, coffee brewers and more, there is always a new treasure to uncover.
Three Favourite Things- Active Pass (I had my first sighting of Orca whales here), Salt Spring Island Market and the various parks and trails.
Driving Time- Depends what island you are going to and what ferry terminal you are departing from, but the shortest trip would have you there in under an hour. For more information on BC Ferries schedules click here.
Whistler
If you are visiting the city of Vancouver and are looking to escape the hustle and bustle for one night, head up to Whistler and do some exploring. Whether you rent a car, take the bus, or go on a tour group, the drive to Whistler from Vancouver is breathtaking. Whether it's summer or winter, there are ample events that take place year-round within the resort town and there is always something to see/do.
Three Favourite Things- Exploring the Village, the Peak to Peak and the drive on the Sea to Sky. 
Driving Time- About an hour and a half from downtown Vancouver.
Harrison Hot Springs
Nestled between the mountains, the cozy village of Harrison Hot Springs is world-renowned for their natural occurring hot springs. It's a small town that slows down during the fall and winter months but for those who are looking for a quick getaway that is affordable and beautiful, Harrison Hot Springs is a great option.
Three Favourite Things- The Hot Springs, Black Forest Steak and Schnitzel and the Miami Bridges Walk. 
Driving Time- About an hour and forty minutes from Vancouver
Do you live in Vancouver? If so, what's your favourite weekend getaway destination?