I'm happy to say that I have very fond (and mildly fuzzy) memories of my last trip to Las Vegas.
I went with my girlfriends at the tender age of 21 and had the time of my life. We drank, danced, ate till our hearts content and shopped like we had never used a VISA before. We skipped lines, wore short dresses with 5-inch heels, and one of us may or may not have ended up in one of the Venetian fountains; but that story is for another time…
It truly was the quintessential girls trip and has had me wanting to go back ever since.
Next year, I will finally have the opportunity to revisit the City of Sin, but most likely with far less sin involved, since I will be heading there for a family wedding. But that doesn't mean it isn't going to be one hell of a time! I'm already starting to plan…
Here are fives things I would love to do this time around in Vegas:
SlotZilla is a zip lining experience that has you flying high above the historic Fremont Street in downtown Las Vegas. I never made it to Fremont Street during my last Vegas trip and I've never been zip lining, so why not combine them both and have what's considered "one of the best experiences in Vegas"?
On my first trip I was only in Vegas for three days and didn't feel like I had enough time to do a full-day trip to the Grand Canyon. Plus, at 21 I was more interested in shopping, dancing, and drinking. But now that I'm oh-so mature, I would love the opportunity to see the Grand Canyon and with five days in Sin City, I can definitely make the trip work.
Since I'm in Vegas for a wedding, we must give the bride some type of bachelorette party and what could be more cheesy and awesome then the boys from the Thunder. Plus, I hear there is a combo deal for tickets to Britney Spears AND Thunder From Down Under, so I'll see if I can talk anyone into that.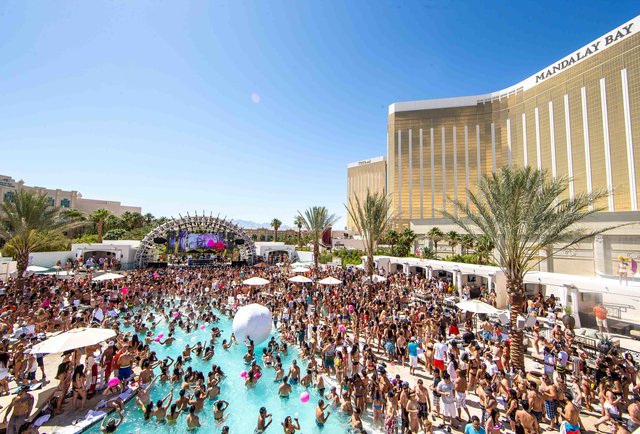 Last time I was in Vegas it was mid-September, and all the pools had just closed for the season so I never got a chance to experience a real Vegas pool party. Therefore, I really want to go to one this time around and see what all the hype is about. Plus, I assume it's going to be some of the best people watching the city can offer.
This place just looks cool. The Neon Museum is essentially an organization that is dedicated to collecting, preserving and studying iconic Las Vegas signs for educational, historic, and cultural enrichment. It's basically the place where old signage is put to rest. Therefore, between all the drinking, gambling, and partying that I'll inevitably be taking part of, I feel that I should make an effort to take in at least a little of Vegas' history.
Any other suggestions for what I should check out in Vegas this time around?